The Schleswig-Holstein start-up network StartUp.SH is going into extension. The state government today approved a further 2.73 million euros for the next year and a half. The EU funds are intended to overcome the effects of the Corona pandemic on start-up and innovation strength. "Despite Corona, we have been able to awaken our start-up scene from its slumber in recent years and have made up considerable ground in all rankings nationwide," said Economics Minister Bernd Buchholz today after the state cabinet meeting. Now, he said, it is particularly important to capitalize on the momentum through new digital and green startups and contribute to the recovery and stabilization of the economy. "So the motto is to keep at it, create new jobs and do even better," Buchholz said.
The minister goes on to say about the renewed funding: https://www.youtube.com/watch?v=JnzUiU2z2MM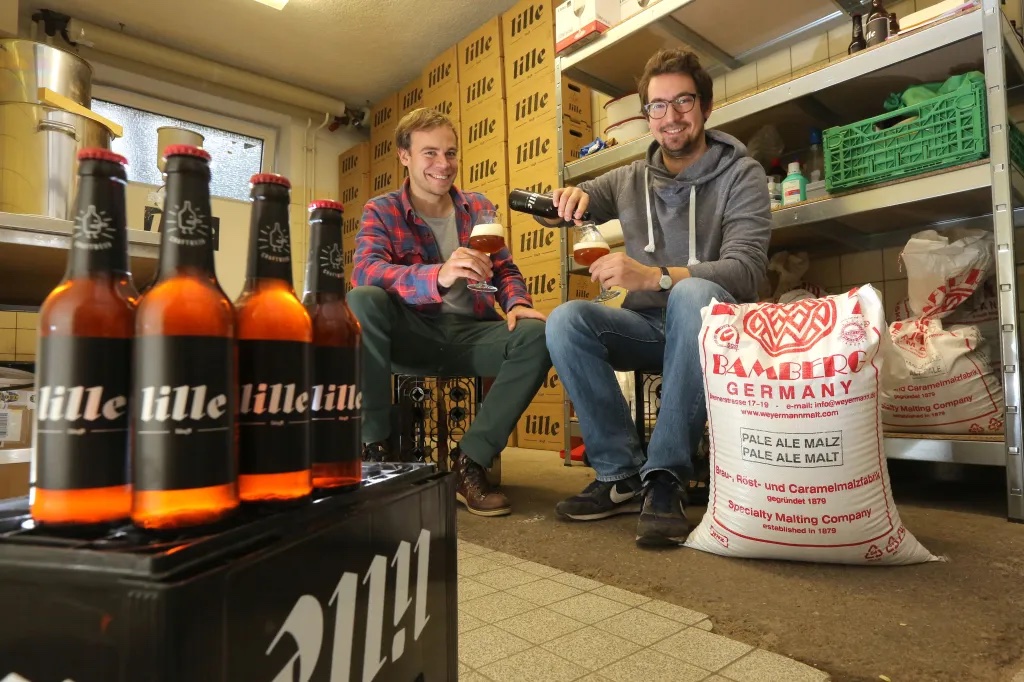 Two model founders: Florian Scheske (left) and Max Kuehl Kiel are owners of the Kiel brewery "Lillebräu". As a startup, they specialize in craft beer.
Universities offer the greatest potential for innovative spin-offs due to their proximity to science and research. 85 percent of startup founders have a university degree. However, support is needed to leverage this potential. The necessary structures and offers have been built up over the past five years with the StartUp SH project and have also been partly consolidated.
"Since the beginning of 2017, we have carried out almost two thousand startup consultations and provided intensive support for 1,228 startup projects, of which 532 have been founded to date," explains Dr. Anke Rasmus as a spokesperson for the project, "on average, more than 100 startups per year have thus been created with the support of the StartUp SH project." These include, for example, startups such as IO-Dynamics, mobOx or Orthodrone, which are supported by various project partners on their way from the initial idea to the foundation and beyond.
What startups say about Schleswig-Holstein as a startup state: https://www.youtube.com/watch?v=ShWUuptiFeg
"Networking among each other in particular is an important success factor," Rasmus emphasizes. This enabled the project partners to focus on expanding their respective expertise in areas ranging from green, social or women entrepreneurship to business development, life science or digital innovation - with an impact throughout the state and beyond its borders. The StartUp SH e.V. association of the same name was also founded as a result of the project and now already networks 28 startup-supporting institutions throughout Schleswig-Holstein. As a result, people interested in starting a business benefit both from the local startup ecosystems and from supraregional offers and contacts. The topic of start-ups has gained momentum and has become more present at universities and in public. This is also reflected in the start-up figures. In the KfW Monitor, Schleswig-Holstein has moved up from 10th to third place in the state rankings.
Pandemic is both a challenge and an opportunity
However, the Corona pandemic also poses challenges for those interested in and supporting start-ups. According to the latest KfW analysis, interest in start-ups is already waning across Germany, even among the group of students with an affinity for start-ups. "In Schleswig-Holstein, we have been able to record a good response to offers even during the Corona pandemic, as well as in some cases even increasing demand for counseling sessions," Rasmus describes the situation in the state, but also emphasizes, "this is not a foregone conclusion, especially if the pandemic continues." The StartUp SH project partners have already digitized many of their services and are making them available nationwide. With the help of REACT funds, they can continue to address the specifics of the pandemic over the next 1.5 years and further fuel the startup spirit at universities. For an even broader impact, the West Coast University of Applied Sciences and the Wedel University of Applied Sciences were additionally integrated into the project for this purpose.
"We see every day how the needs of startups and potential founders are developing, and we consistently align our offerings with this and think them through further," says Rasmus. Thus, future funding after REACT will again be consistently aligned with the needs of the founders and will be the focus of all stakeholders.
Figures and data:
Funding amount 1.1.2017 - 31.12.2021: 6,886,161 euros
Funding amount 1.1.2022 - 30.6.2023: 2.729.327,67 Euro
Balance 1.1.2017 up to and including October 2021:
1,783 events with 36,055 participants
1,975 start-up consultations
1,228 accompanied start-up projects
532 start-ups
Under the title "Innovation-oriented network StartUp SH", the state of Schleswig-Holstein and the EU are funding a project with 18 sub-projects to promote the start-up culture in Schleswig-Holstein from January 1, 2017 to December 31, 2021. One result is the StartUp SH association, in which, in addition to the 12 project partners, other members from universities, university-related institutions, chambers of industry and commerce, development banks, technology and startup centers, and business development agencies are involved. Currently, the association has 28 member institutions.
Main topics of the StartUp SH project: Green Entrepreneurship, Social Entrepreneurship, Creative Entrepreneurship, Women Entrepreneurship, Technology Entrepreneurship, Start-up Management, Start-up Funding and Financing, Business Development and Life Science, Scale-up, Internationalization, Human Resources, Open Innovation, Innovation Camp, Participation Management, Networking of Start-ups and Network Partners.
Promoted by:
The project Start-Up SH of Schleswig-Holstein with funds from the European Regional Development Fund (ERDF), duration January 2017 to December 2021.